The Rumors Of The Blackhawks Opening Night Roster Are A RUMBLING
For the past month or so I've advocated for Kane and Schmaltz to be split up and for Toews and Saad to stick together. It'd be pretty reactionary of me to watch one game and more specifically one play and then completely change my tune about having the Saad-Schmaltz-Kane eggs all in one offensive basket…
but…that's EXACTLY what I am going to do. That line was humming. Kane and Schmaltz have always had tremendous chemistry and if Saad can get his game going and get to the front of the net then that line has everything. They can score, they can check, they can attack East-West, North-South, and Saad gives them an element of forechecking that they wouldn't have if say…DeBrincat were at LW on that line.
This is what I said in my 2017-18 preview about the idea of Schmaltz centering Kane's line
Schmatlz is going to create so much space with his speed. Kane has never had that. This is what I have been talking about since like June on this blog. Schmaltz can back defenders off with his speed, and Kane can find space behind him. Do that a few times and Dmen are going to start cheating a bit, and then Schmaltz simply blows their doors off and gets to the net. If Kane has the puck on the wall and defenders over play him well then Schmaltz will be streaking down the middle in one-time shooting position as a right shot. Criss-crossing, opening lanes, challenging dmen east-west AND north-south
Now, I would like Schmaltz to be a little more assertive with his speed through the neutral. After Jack Johnson cleaned his clock early last year it seemed as if Schmaltz didn't attack with speed through the middle as consistently as the team needs him to. There are very few players who have the ability to make high-end skill plays at top speed through the middle of the ice. When I say "very few" the list might just be like MacKinnon and McDavid. Schmaltz isn't at their level, but he can play a very similar game. He can be a 70 or maybe even 80 point guy this year if everything clicks. That's what the Hawks need and quite frankly…so does he. Contract year production. Get paid, bitch.
That leaves Toews a little isolated and lonely on his line. DeBrincat will fall out of bed and score 25 goals per year for the next 10 years, but those two guys need a dynamic play-making type winger that the Blackhawks don't really have…right now. That guy is Dylan Sikura. It just is. It has to be because Stan gave away Vinnie Hinostroza for no reason. Joel will never give big minutes to a young player out of the gate unless he absolutely earns it. The Hawks need Sikura to earn it, because Toews and DeBrincat need Sikura's speed and play-making in order for them to be a productive line. I don't hate Chris Kunitz, but he's never going to be an impact player for this team. There's a reason why he was a 4th liner on Tampa Bay last year. He's a bottom 6 player and Sikura needs to make that obvious.
The "star" of the game last night for the Hawks, and the boy creating the most buzz, was Adam Boqvist
Boqvist was supposed to be sent to the London Knights after the game for a year of seasoning and development in the OHL under the careful eye of Dale Hunter. Then Joel Quenneville did his best Lee Corso
As I said earlier, everything with Joel Quenneville is based on merit. Adam Boqvist is still in an NHL training camp right now because his play has dictated that. I've been critical of the draft pick and have pondered if trading Boqvist for a player like a Mark Stone would be a good move simply because I am SO high on both Jokiharju and Ian Mitchell. They're both undersized right-shot defensemen and Boqvist makes 3 a crowd in someways. With that said, I'm not going to sit here at Collectivo on Clark St and tell you that Boqvist hasn't impressed me in his two games so far this preseason. That first clip made me a little warm inside last night. And that wasn't his only bright spot
The play described above was made at the offensive blueline. His gap was good all night. When he gives quotes to the press his words indicate a lack of confidence, but on the ice confidence seems to ooze out of him. He's not timid with the puck on his stick. Joel openly talked about how the Hawks may start the season with him. They very well may since Murphy is out and well…Brandon Manning doesn't look great.
I highly doubt Boqvist gets more than 9 games in the regular so the clock doesn't start on his ELC, but the thought of a PP1 quarterbacked by Patrick Kane on the right-side of the 1-3-1 with Jokiharju up top and Boqvist on the opposite side. Looking something like this: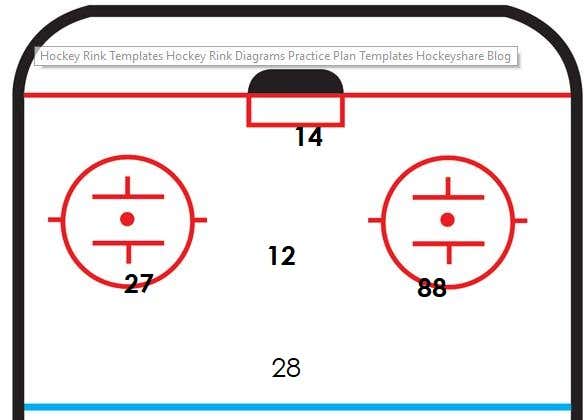 What you have here is a one-timer right-shot option for Kane at the top with Jokiharju. A one-timer right-shot option on the far side with Boqvist(his shot is ABSOLUTELY good enough to be there). A one-time right-shot option in the heart spot with DeBrincat. The quickest release on the team drifting in and out of the slot finding those dead areas. That's where DeBrincat should be. DeBrincat can be that far side one-time option, but I really think he'd be more productive closer to the net. The Kunitz or whoever in front. It actually has to be Toews, now that I think of it, but I already made the diagram and I'm not going back and switching it now. Imagine the entries with on the PP with Kane, Boqvist, and Jokiharju all being threatening options to carry and move the puck. I can feel the blood pumping in my nether regions just thinking about it. The Schmaltz, Sikura, Anisimov, Kunitz/Saad run the PP2 with Keith up top.
Again, don't think it'll be more than a 9 game experiment unless Manning just can't hack it at all and Boqvist is truly one of their best 6 options on defense. We'll see, but I am having fun now.
Unlike Boqvist, the Hawks sent their other 1st round pick Nic Beaudin back to junior hockey. I was really impressed with Beaudin in my 4 limited viewings of him. He's my kinda defenseman. You don't really notice him out there. He just makes smart, simple plays, and does so very effeciently. His game is quiet and smart. The thought of a defense corps of the future built around Beaudin, Boqvist, Jokiharju, and Ian Mitchell is really exciting even if having 5 defensemen under 190lbs is also a little scary. That's the new NHL I guess.