The Yankees Just Need To Get Healthy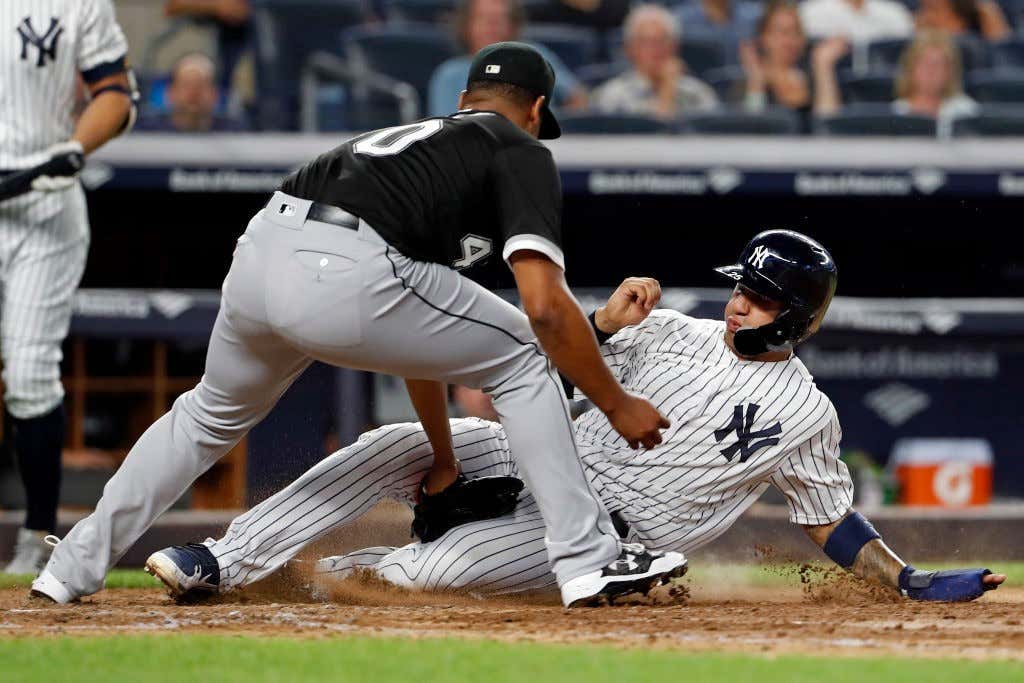 Last night the Yankees dropped another game to the White Sox and lost their first home series against them since 2006. YIKES. Last night it wasn't defensive miscues or pitching problems that doomed them, but it was the bats instead. Reynaldo Lopez went seven strong innings, scattering five hits and allowing just one run. The Yankees had a leadoff guy on in five of their nine innings, but managed to only score once.
Their big scoring chance of the night came in the 5th inning when Walker and Gleyber singled back to back to start the frame. That brought up Greg Bird in a big spot to get something going. After swinging through two pitches he then flew out to left on a fastball down the middle. Shocking. The Greg Bird apologists will say he's seeing the ball because he finally got a hit, but all I saw was a lifeless hitter after that. Austin Romine fell behind 1-2 to Lopez before working a great at bat and drawing a walk to load the bases with one out. Ronny Baseball singled home Walker to get the Yanks on the board and keep the train moving.
That brought up Brett Gardner who struck out on a nasty changeup. After another 0-4 last night, Gardy is hitting .196 over his last 43 games and should not be leading off anymore. There are people out there saying he should be taken out of the lineup entirely when Clint and/or Judge come back, but I think he's a bat you need in the home stretch and in the playoffs to grind out at bats while also being a leader. Gardner goes through these stretches, although this appears to be longer than usual, but he'll hopefully show some signs of life soon. That being said, I think he needs to be hitting 9th when Didi and Gary return next week and slide Hicks to the permanent leadoff spot.
Back to the game, with two outs in the inning Giancarlo came up still in search of his 300th home run. Stanton swung through the first pitch, but Kevan Smith let it go behind and to the backstop. Obviously it's easy to rip on Gleyber for risking it with Giancarlo up with the bases loaded, but I'd say he scores on that exact scenario 9 times out of 10.
The terrible throw from the catcher back to Lopez parlayed with his miraculous scoop and tag to get Gleyber was an incredible combo of bad luck. It just wasn't the Yankees night, once again.
The plan of action is simple. They need to get healthy. Austin Romine needs to go back to being a backup catcher and Gary Sanchez needs to come back and be the guy. Anyone that doesn't want Gary back because he had a shitty first half of the year is honestly brain dead. He's going to come back on a mission and surprise everyone. He has to. Gary could be back as soon as this weekend while Didi should be okay by Monday it looks like for the west coast trip. Aaron Judge is another story unfortunately as it's becoming bleak as to "if" not "when" he'll return this season. It sucks to realize, but the fact that we've resorted to him saying "one day I'll just wake up and feel better" is pretty disheartening. He said his pain rating has dropped from a 5 to a 4 recently, but at this point you would have hoped that would be lower by now. I honestly hope everyday I see a Bryan Hoch tweet that says he's feeling better and picked up a bat, but it hasn't happened yet.
Just get healthy and then we can go.