Who Were The Best Mid-Major College Basketball Players Of The Last 10 Seasons?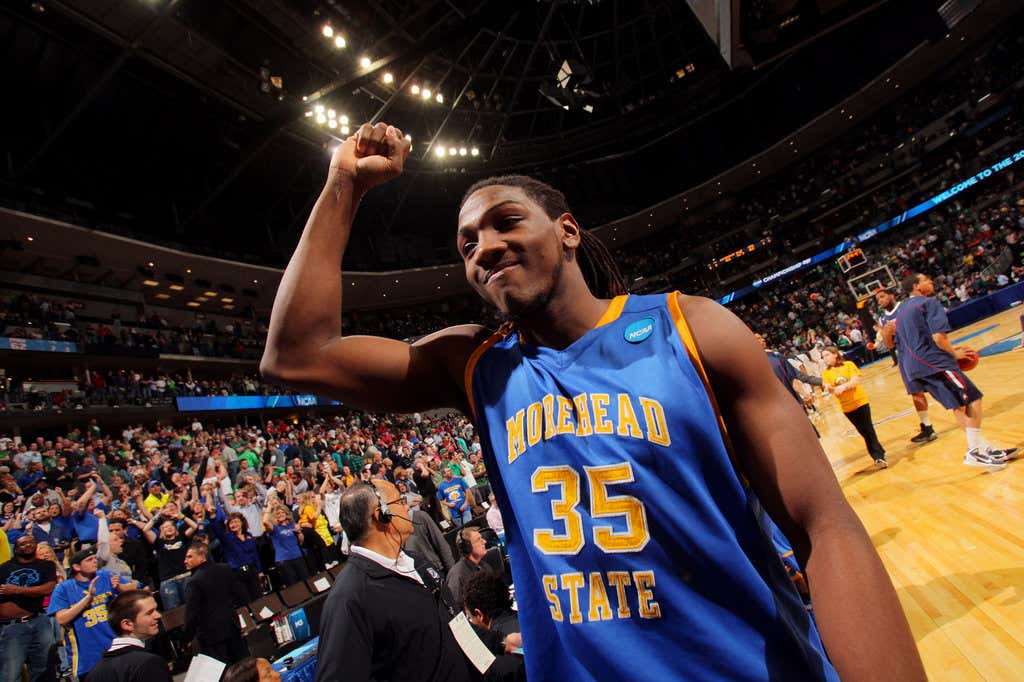 So it's August and this is somewhat the dead time in hoops. We're a little bit away from the start of preseason in the NBA, we're past the July recruiting period, so really all we have are some international trips and any surprise trades. So with that in mind I decided August will be the time to reflect on the past and get yelled at by putting out different blogs involving the best/worst/rankings/whatever. So if you have something in mind, let me know. I started this with the 10 best programs in college hoops from the last 10 seasons.
We move on with just a few days left to focus on the mid-major guys again. Now, for reference we'll rule out the A-10, Butler, Gonzaga, St. Mary's, Wichita State and BYU. We'll focus on true mid-majors here, which means there will be no Jimmer, no Steph, no Gordon, no obvious name like that. Also a reminder that it's the last 10 seasons, which is 2008-09, he's not eligible. You can play before hand, just have to still be playing college ball during the 2008-09 season. It's also just college based, which made it difficult to figure out what to do with someone like CJ McCollum or Damian Lillard. Both are the best pros out of these guys, but Lillard essentially missed an entire year. So with that in mind these were the best mid-major college basketball players of the last 10 seasons.
10. Justin Robinson – Monmouth (2013-17)
The diminutive point guard for a Monmouth team that caught even the casual fans eye, Robinson is the first one on our list here. He was the MAAC Player of the Year two years in a row, when he averaged over 19 points per game in those years. He upped his 3-point shooting every year, finishing as a 40% shooter as a senior as well as his assists – which went up to 4.8 per game.
9. Keith Benson – Oakland (2007-2011)
Similar to Robinson, Benson finished his career with back-to-back conference player of the year awards. The 6'11" center for Oakland averaged a double-double as a junior and senior and was named the Lou Henson Award Winner. While he averaged over 17 points per game, he was also a force at protecting the rim, averaging over 3 blocks per game for his junior and senior year. He's still the career leader in the Summer League when it comes to blocks.
8. Darington Hobson – New Mexico (2009-10)
Hobson played just one year at New Mexico, but it was a memorable one. After transferring to New Mexico following junior college, where he was a 4-star recruit. During his one year with the Lobos, he was the Mountain West Player of the Year and a Third Team All-American. He became the first New Mexico player to lead the team in points, rebounds and assists as a 6'7″ guard. He nearly averaged a double-double as he put up 15.9 ppg, 9.3 rpg and 4.6 apg.
7. Thomas Walkup – Stephen F. Austin (2012-16)
The man with the beard that became a darling after he upset West Virginia in the NCAA Tournament was also pretty damn consistent during his time at SFA. Similar to Benson, he won the Lou Henson Award in 2016. Walkup was a 2x Southland Conference Player of the Year and 2x All-American honorable mention. He was a 6'4″ guard that really took advantage playing in Brad Underwood's system when he averaged 18 ppg, 6.9 rpg and 4.5 apg as a senior. Walkup scored 33 in the 2016 victory over West Virginia.
6. Kyle O'Quinn – Norfolk State (2008-12)
O'Quinn became a household name when he led Norfolk State to the upset victory over No. 2 Missouri in the 2012 NCAA Tournament. That helped propel him to being picked in the 2nd round and carving out a career with the Magic and Knicks. O'Quinn was the Lou Henson Award winner and MEAC Player of the Year in 2012 when he averaged 15.9 ppg, 10.3 rpg and 2.7 bpg. O'Quinn was also a two-time MEAC Defensive Player of the Year award winner. During that same 2011-12 year, O'Quinn was top-20 in the country in double-doubles, blocks, rebounding and field goal percentage.
5. Nate Wolters – South Dakota State (2009-13)
Wolters immediately stepped into the South Dakota State rotation as he averaged 10 points per game as a freshman, starting 11 games. Wolters was one of the best scorers at any level of college ball in recent memory, led by his 53 point game against IPFW as a senior. He started every game of his career beginning with his sophomore year and averaged 18.5 ppg, 5.3 apg ad 4.7 rpg for his career. He was named to the Third Team All-American team as a senior while being a 3x Summit League First Team member.
4. Seth Tuttle – Northern Iowa (2011-15)
Seth Tuttle actually had a chance to play at a larger school but picked UNI over Wisconsin and Iowa. He eventually turned that into a second team All-American performance as a senior. That year he 15.3 ppg, 6.9 rpg and 3.3 apg as he led UNI to a No. 5 seed in the NCAA Tournament. Tuttle was also one of the 10 finalists for the Naismith National Player of the Year award. At 6'8″ we saw UNI run the offense through him in different ways, which was always unique, especially with UNI's slower offensive sets. They'd put him in the high post and ISO him or run cuts off of him from the wing.
3. Mike Daum – South Dakota State (2015-present)
The only active player still on this list, Daum very well may end up as the best mid-major player when it's all said and done. There's a real chance he could end up being a First Team All-American as he's coming off a year where he averaged 24 points and 10 rebounds per game. He's been a two-time honorable mention for All-American teams while winning the Summit League Player of the Year award the last two seasons. Similar to Tuttle, Daum gets the offense run through him as a 6'8″ forward. However, Daum can step out and really shoot the ball, as a career 43% 3-point shooter.
2. Isaiah Canaan – Murray State (2009-13)
Similar to Wolters, Canaan didn't start as a freshman but still was a scoring threat, averaging over 10 points per game. He eventually was a two-time OVC Player of the Year as a junior and senior. Canaan's best year came during his senior year under Steve Prohm where he was a consensus 2nd Team All-American. During that year Canaan averaged just about 22 points per game and over 4 assists per game.
1. Kenneth Faried – Morehead State (2007-11)
Probably the most well-known name on this list it shouldn't be a surprise. Kenneth Faried was an absolute freak at Morehead State. He eventually broke Tim Duncan's modern rebounding record as he grabbed 1,673 rebounds for his career. He eventually was a Second Team All-American as a senior, which also saw an upset victory over Louisville in the first round of the NCAA Tournament. Faried was a two-time OVC Player of the Year and the National Defensive Player of the Year. He averaged at least 13 rebounds per game for three years at Morehead State and had a career average of 15 points and 12.8 rebounds per game.