Conor McGregor Is Going To Tear Khabib's Entire Camp Apart Before This Fight Even Happens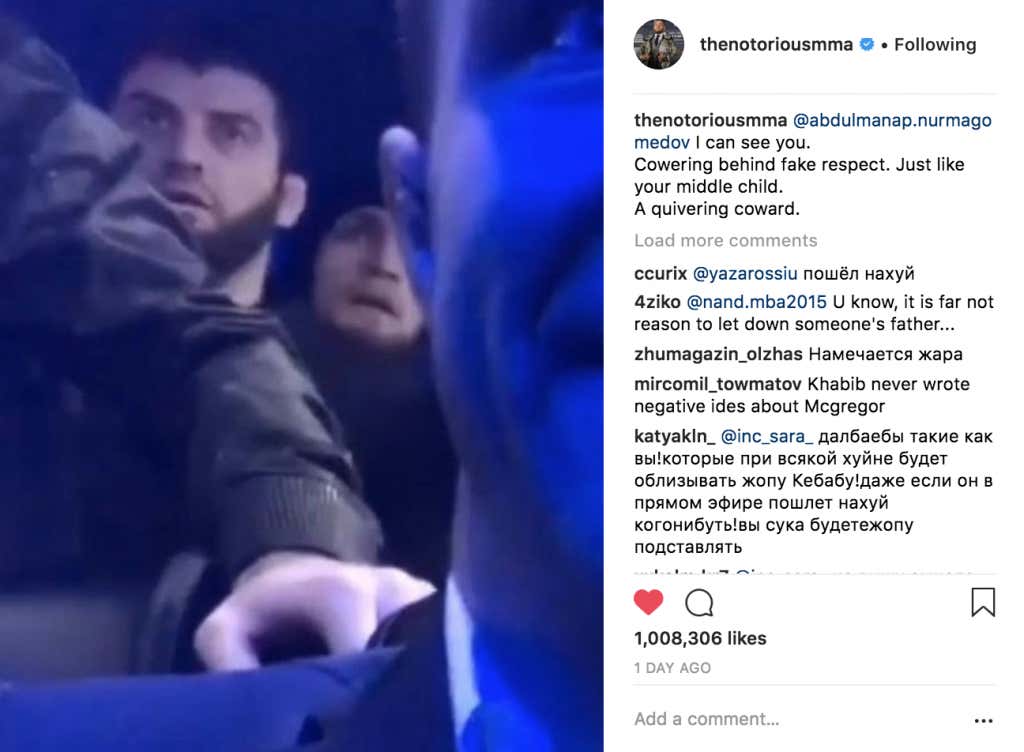 This Conor McGregor fella, folks…I'll tell ya…he knows a thing or two about mind games. He's got some experience in mental warfare. But the build to this fight against Khabib Nurmagomedov at UFC 229 on October 6th? This may be his one true masterpiece. Let me explain.
The first Instagram post seen above was made yesterday, and made out to Abdulmanap Nurmagomedov, Khabib's father. It includes a picture of Abdulmanap's son, Khabib, quivering like a coward and shitting his Dagestani drawers while on the bus that McGregor was attacking. Pretty self explanatory. I've said it before and I'll say it again: ol' bear-wrestlin', "Send me location" tough guy Khabib ain't about the life Conor is. If he was, he would've gotten off the bus in Brooklyn. Conor's just making sure Khabib's father knows what kind of baby back bitch his son is with this one.
Next up, we have a picture of a Russian from Khabib's crew along with the caption…
"A true Chechen would never assist in a Dagestani led attack on another Chechen. A true Chechen would never take orders from a Dagestani man. This is treason. There is no worse than treason."
Now for hours, I had no fucking idea what this meant. Treason? A Dagestani led attack on a Chechen? Taking orders? I didn't know what was going on. Then, with the combined help of some friends on Team McGregor and r/MMA and Twitter, I started to piece things together, and OH BOY is this a fucking brilliant post that required some serious dirt digging for Conor to make. Hear me out on this one.
So this Khabib Nurmagomedov/Conor McGregor rivalry truly reared its head up on April 3rd, 2018, when Khabib and his crew of Dagestanis cornered Artem Lobov, Conor McGregor's teammate/best friend, in his hotel prior to UFC 223, and smacked him around a bit. The full video can be found below.
Khabib's motivation for doing this is largely unknown, but the easy assumption to make is that he wanted McGregor to take his challenge more seriously being McGregor talked some shit about Khabib prior, so he used Artem to get Conor's attention, which he did. Conor immediately flew across the world from Ireland to Brooklyn and (allegedly) attack Khabib's bus, throwing a dolly through it's window. Again, allegedly. My lab is still looking over the footage for traces of CGI/doctoring. But I digress.
Things get very interesting when we look at Russian geography and the history between Dagestan, Russia and Chechnya, Russia.
Khabib is obviously from Dagestan, but Artem Lobov (again, McGregor's teammate/best friend) is from Chechnya. As is the man pictured in McGregor's post about treason, who was with Khabib in the Artem ambush. And Dagestanis and Chechens do NOT get along, apparently.
So McGregor has essentially accused this member of Khabib's crew of being a traitor to his republic, and seemingly outed him as a Chechen to Khabib. This sent Russians involved in mixed-martial-arts into an absolute uproar this weekend, and they were ALL at each other's throats. It was truly glorious to see, and the only thing comparable to a power-play this brilliant is when Helmut Zemo turned the Avengers against each other in 'Captain America: Civil War'. Seriously. So now that I know that…
Finally, and this one don't need too much explaining, McGregor shared a photo of his knee ripping into a sparring partner's temple last night to commemorate the one year anniversary of his fight with Floyd Mayweather. Captioned: "1 year ago today I adhered to a load of rules, for a load of riches. Not today though. Today was no rules. Just a fight. A Proper one. For nothing more than peace, and peace of mind.", he's clearly ready to get back into the octagon and throw some limbs he didn't have the ability to use in the Mayweather fight, and god damn it, I'm fucking stoked for that to happen. A knee to the cranium as Khabib shoots and it will all be over. Donezo. Goodnight you sloppy son of a bitch.
40 days. #andNEW