Can Martellus Bennett Just Stop Talking?
The moment Martellus Bennett retired from the league I thought we were finally free of him and the elaborate nonsense that comes out of his mouth.
Like the time Chicago media asked him about missing practices and he went on a tangent about the state of our world and Gandhi.
"There are a lot of situations going on. I just wish everybody would educate themselves on the things that are going on in the world and figure out ways we can make a difference, you know, like Gandhi said, 'Be the change that you wish to see in the world.'"
Um. Yeah, ok dude. Please lecture the world on what's right and wrong as you're body slamming rookies to the ground… during practice.
Hey how about when he played 7 games for the Packers and they cut him because he failed to disclose just how serious his shoulder injury was? Remember how he ran back to the Patriots and talked shit about the Packers' medical staff, claiming the team doctors knew about his injury and forced him to play through it?
"They tried to f— over me. Dr. McKenzie trying to cover his own ass. After trying to persuade me to play thru a major injury and me choosing to get surgery. They have access to all my medical records. My shoulder wasn't where it is now at the beginning of the season. I f—ed it up playing for the Packers."
Those are the ravings of lunatic. And Aaron Rodgers and Jordy Nelson both proved that with their very public support of Dr. McKenzie, the doctor who was willing to ruin Bennett's shoulder in order to get him and his piss-poor production back on the field.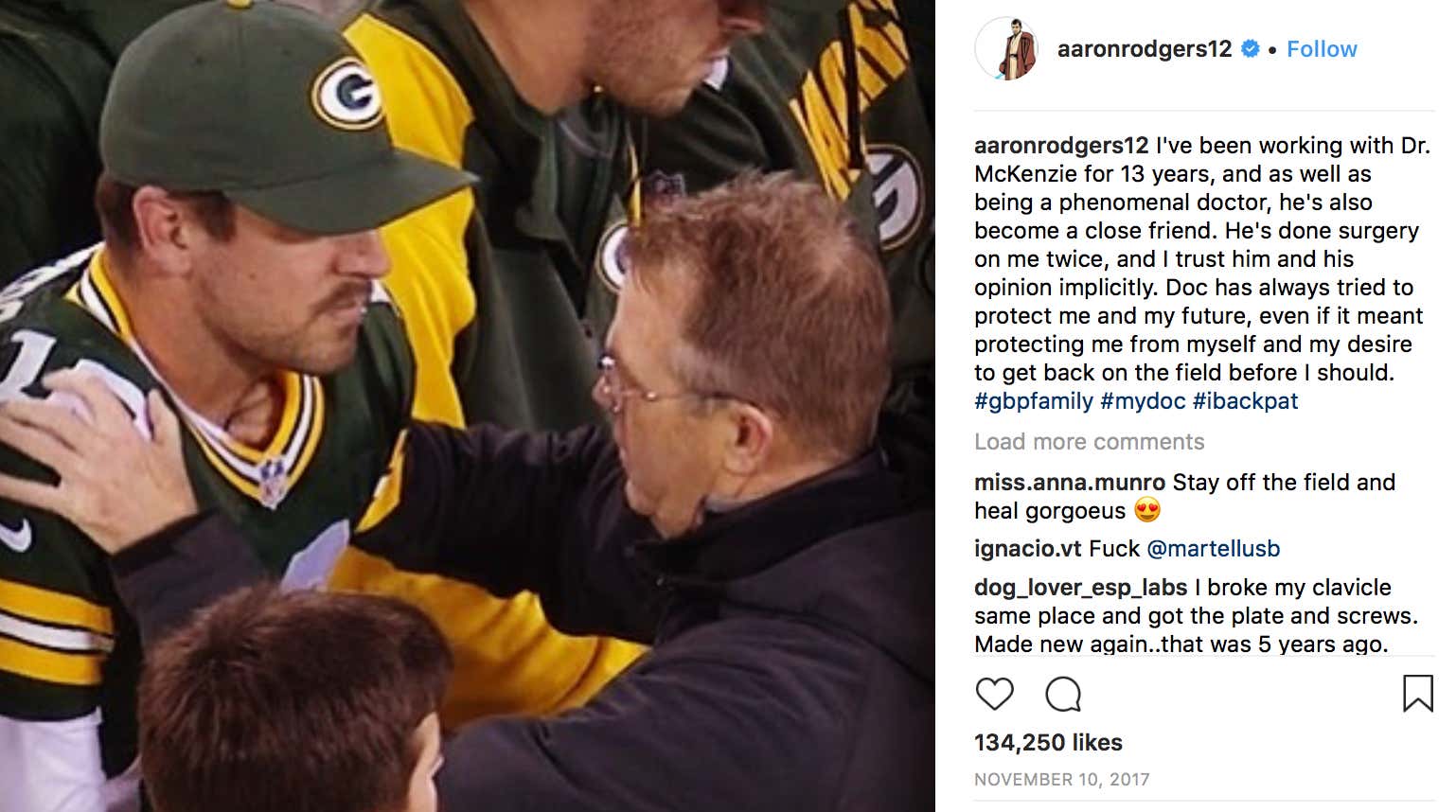 Fair to say Bennett and the Packers, Rodgers included, did not part ways on the best of terms. Now flash forward to yesterday when Bennett told Doug Gotlieb that Tom Brady was not only easier to play with, but a better leader.
"I think that no one has more arm talent than Aaron. Aaron can pretty much do anything with the ball. I feel like Tom Brady is precise, easier to play with. It was easier to play with Tom than anybody else. He makes the game easy, what he expects, where he wants you to be, where he's putting the ball, he does so many repetitions with you, mental reps, physical reps, walk-through, he's always letting you know…. The communication between him and the receiver is on the highest level."
Is this ground breaking news? Rodgers having a great arm and Brady being a great leader? Is it even shit talk?
But because it comes from Martellus Bennett, I hate it. I wish he would keep my quarterback's name out of his mouth because he hasn't earned the right to say ANYTHING about him! Greg Jennings is constantly making snarky comments about Rodgers, and while I wish he wouldn't, HE is someone who has earned that right. He played with him for 7 seasons, 5 of which Rodgers was the starting QB. Bennett was in Green Bay for a hot minute and only played with Rodgers for 7 games.
Of course he's going to say Brady is a better leader! And of course Brady (whether he is or not) is going to appear easy to work with when Belichick is on the other side, someone who is notoriously strict and difficult to play for.
But I'm not here to take away anything from Brady. His reputation (and rings) say everything you need to know about him- that he's the greatest quarterback in the NFL. I'm also not saying that what Bennett is saying is untrue, because it probably is the truth. I'm just tired of hearing him SPEAK. About anything, but especially about the Packers, an organization whose good name he has tried to slander.
Retiring from the NFL wasn't enough, Bennett should also retire from voicing his football-related opinions and focus on novelizing the next great Green Eggs and Ham.