On This Date in Sports August 7, 1993
In collaboration with the Sportsecyclopedia.com
Bobby Ojeda of the Cleveland Indians, who was the sole survivor in a horrific Spring Training boat accident that claimed the lives of teammates Steve Olin and Tim Crews returns to the mound. Ojeda, who suffered a head injury in the accident, was signed by Cleveland in the off-season. Bobby Ojeda would allow two runs, one earned on four hits in two innings in relief.
Bobby Ojeda was born in Los Angeles on December 17, 1957. He made his major league debut with the Boston Red Sox in 1980. After six seasons in Boston, Ojeda was traded to the New York Mets before the 1986 season. With the Mets, Bobby Ojeda found his greatest success posting an 18-5 record with a 2.57 ERA, with the 1986 World Champion Mets. After five years with the Mets, Ojeda was dealt to his hometown Los Angeles Dodgers where he spent three seasons before becoming a free agent and signing with the Cleveland Indians.
As the Cleveland Indians managed by Mike Hargrove entered the 1993 season, things were beginning the change as they were playing their final season at Municipal Stadium before moving to a new downtown ballpark in the Gateway District. The Indians had a growing talented young core that was about to turn the long-struggling franchise into winners.
One of the players the Tribe were banking on was closer, Steve Olin, as 27-year old who had 29 saves with Cleveland in 1992. After playing an afternoon game in Spring Training, Olin went on a nighttime fishing trip with two of his new teammates Bobby Ojeda and Tim Crews who both had played with the Dodgers in 1992. Crews were a 31-year-old middle reliever who was signed to help bolster the Indians bullpen. During the sunset fishing trip on March 22, 1993 tragedy struck as the boat crashed into a pier on Little Lake Nellie in Orlando. Steve Olin was killed instantly, while Crews who had been legally drunk with a blood alcohol content of 0.14 died the following morning it was the first death of an active player in MLB since Thurman Munson in 1979. Bobby Ojeda suffered a serious head injury survived only because he was seated lower than the other two riders did.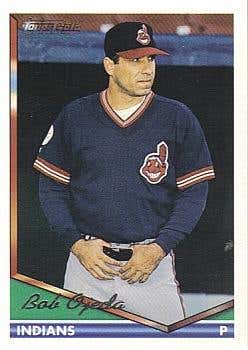 The Cleveland Indians were devastated by the death of their two pitchers and wore a patch all season in tribute. Bobby Ojeda, meanwhile need time to recover and was finally able to make his Cleveland debut out of the bullpen in a game against the Baltimore Orioles at Camden Yards. By the time, Ojeda entered the game for the Indians were trailing 5-4 in the fourth inning. Cleveland had scored two early runs off Fernando Valenzuela on a sacrifice fly by Albert Belle and RBI single by Wayne Kirby. However, the Orioles rallied for five runs in the third against Julian Tavarez who was making his major league debut as Mark McLemore drove in a pair of runs with a single and Cal Ripken Jr. hit a three-run home run. The Tribe got two runs back in the fourth on a triple by Sandy Alomar Jr. and double by Kenny Lofton. This led Orioles manager Johnny Oates to go to the bullpen for Alan Mills, who after an intentional walk to Kirby got Carlos Baerga to hit into a double play. Ojeda came on in the fourth and was greeted by a single by Brady Anderson who advanced to second on a poor throw by Baerga. He would later score an unearned run on a sacrifice fly by Mike Deveraux. In the fifth, Cal Ripken Jr. hit his second homer of the game to make it 7-4 in favor of Baltimore. The Indians continued to battle back as Alomar hit a two-run shot in the sixth inning. Bill Wertz, meanwhile relieved Bobby Ojeda after allowing two runs, one earned in two innings with four hits and one strikeout. The Orioles added another run in the eighth inning on an Anderson sac fly. Gregg Olsen came on to finish the game earning his 29th save of the season by retiring the side in order as Baltimore won the game 8-6.
Bobby Ojeda would make nine appearances with the Indians, including seven starts as he posted a record of 2-1 with an ERA of 4.40. It would be his only season in Cleveland as he signed with the New York Yankees in 1994. With the Yankees, Ojeda made just two starts and struggled badly, allowing eight runs in just three innings of work as he was released a month into the season and retired a short time later.