DeMar DeRozan Leaves The Toronto Raptors With One Last Extremely Petty Move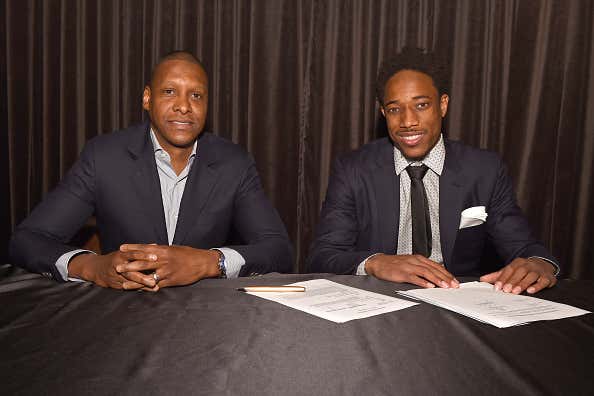 [ESPN] - San Antonio Spurs guard DeMar DeRozan has withdrawn from participating in Basketball Without Borders and the NBA Africa game, sources close to DeRozan told ESPN.
I love this. I mean we talk about the NBA being petty as hell – just look at Big Cat starting a fight on Twitter last night and possibly bringing down the Warriors – and this is as petty as it gets.
DeRozan was supposed to play in the NBA Africa game, something that is set up by Raptors GM Masai Ujiri. The game is being held on August 4 in South Africa that will feature the likes of Joel Embiid, Serge Ibaka, Al-Farouq Aminu on Team Africa and Rudy Gay, Harrison Barnes, Hassan Whiteside and Khris Middleton on Team USA.
We saw Kawhi Leonard skip Team USA minicamp in Vegas this week, where Pop is the head coach and now we see DeRozan leaving the Raptors with one less petty move. At least he has his boy with him during these trying times:
This isn't like DeRozan is coming off an injury or anything like this. This is strictly a fuck you move to Uriji, whom DeRozan is still upset about. DeRozan has talked quite a bit about how he was promised he wasn't being traded and how much he loved Toronto, only to be flipped for Kawhi Leonard. Love the pettiness, DeMar.