We Got Trailers For 'Aquaman', 'Godzilla: King Of The Monsters', 'Shazam!', and 'Glass'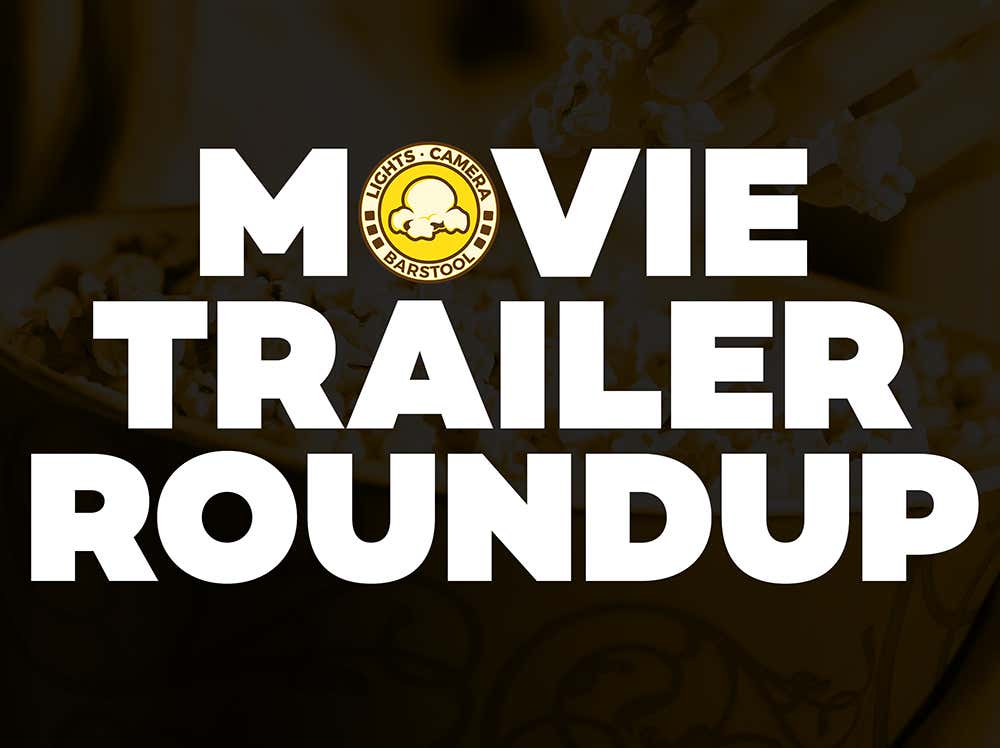 Like I mentioned at the end of the last weekly roundup, we had a ton of trailers drop after the Friday blog. They're significant enough to earn their own separate blog, so lets nurse some hangovers and take a peek at some superheros and monsters!
1. Glass
The much anticipated sequel to 2000's 'Unbreakable' and 2016's 'Split', this trailer looks amazing. M. Night Shyamalan has been in a well documented slump, so I think we're all hoping to see him succeed here. It looks like David Dunn, Elijah Pierce, and THE BEAST are all locked up in a psych ward of sorts run by Dr. Staple (Paulson). I'm not sure exactly how they keep Dunn or the Beast contained considering their powers, but I guess we will find out! Bruce Willis (Die Hard), James McAvoy (Atonement) , Samuel L. Jackson (Pulp Fiction), and Ana Taylor-Joy (Thoroughbreds) are all returning, with the biggest new addition being Sarah Paulson (12 Years A Slave, The Post). The release date is Jan. 18.
2. Godzilla: King Of The Monsters
The 1998 'Godzilla' was terrible, but 2014 'Godzilla' wasn't unwatchable by any means. If that trend means anything, this should be good! A direct sequel to the 2014 movie, and the third movie in the Monsterverse, this looks to be wayyyyy larger in scale than the previous two. It also is downright apocalyptic, where do you even go from here?
The next movie is supposed to be Godzilla vs Kong, so I guess they will battle for a smoldering waste heap, sort of like Lakers and the Clippers ( I give myself 0.5 Kate Upton boobs for that joke). 'Pacific Rim' obviously took a ton of influence from Godzilla, but I can't help but think "Damn, that looks like 'Pacific Rim'" after watching. Even down to a comedian (Charlie Day/Tom Middleditch) playing a goofy scientist.
Did you know Charlie has sex with an alien in 'Pacific Rim: Uprising'? I wish I could forget that. The cast is unreal and includes Millie Bobby Brown (Stranger Things), Kyle Chandler (Friday Night Lights), Vera Farmiga (The Departed), Bradley Whitford (Get Out), Sally Hawkins (The Shape Of Water), Charles Dance (Game of Thrones), Thomas Middleditch (Silicon Valley), O'Shea Jackson Jr. (Straight Outta Compton), Ken Watanabe (Inception), and Zhang Ziyi (Memoirs of a Geisha). I'd usually never list a cast that long, but it is a stacked group of actors and actresses. It's directed by Michael Dougherty (Krampus, Trick r' Treat) and co-written by Zach Shields (Krampus), and Max Borenstein (Godzilla, Kong: Skull Island). Nothing about that group's resume is particularly standout as far as how it would lend to this movie, but thats just the Monsterverse, baby! I was going to do a quick ranking of Godzilla villians, but then realized that there is way too many. I just want to note that the list is 1. King Ghidorah, the three headed dragon and 12324124. Mothra, the big-ass bug. This movie is slotted for release May 31st.
3. Shazam!
DC is like a team on the losing end of a 15-1 run that needs a bucket desperately, and this trailer is a Nick Young no-look three. We've been ripping on this movie a bit pre-trailer because of the shots from the set where the suit looked horrible. However,  we were still excited to see the trailer because, like we always say, at the end of the day don't well all just want more good movies? Well, this trailer does NOT make it look like a good movie. The DCU is notoriously dark and gloomy, and this is totally off tone with everything they have put out so far. Now, there is nothing wrong with that at all, and I personally think that is a step in the right direction. Maybe it might have been better to do that gradually, though, instead of going from doom-and-gloom 'Justice League' to this dude doing the floss.
You obviously get vibes from 'Big', which is one of my favorite childhood comedies, but with superpowers involved. Will Zach Levi and Asher Angel be able to replicate that Tom Hanks/David Moscow feel? Well, probably not since thats not what they're going for, but I hope so. Zachary Levi (Chuck) and Asher Angel (Jolene) star as Shazam/Billy Baston, and it co-stars Mark Strong (Kingsman: The Secret Service), Djimon Hounsou (Blood Diamond) and Jack Dylan Grazer (IT). I'm a big fan of Strong and Hounsou, both of whom have been in some of my favorite movies of the past few decades. Levi is more of a wildcard, so I guess it's good he's only the main focus of the whole movie. It's also worth noting that Dwayne Johnson will be playing Black Adam somewhere in the Shazam story arc, but he has said he doesn't have a cameo in this film. It's directed by David F. Sandberg (Lights Out), and written by Henry Gayden (Earth to Echo). Like the last crew, those resume's don't scream "Defibrillator to the DCU", but I hope it turns out to be a fun time. April 5th is the scheduled release date.
4. Aquaman
Helllllllll yea. The Jason Momoa casting as Aquaman was by far my favorite casting the DCU has made so far, and this trailer validated that excitement entirely. I appreciate any movie that knows what it is, and making this a no-holds-barred CGI adventure instead of a dark-filtered, dreary movie is exactly what I had hoped for. James Wan (Saw, Furious 7) is at the wheel of a script by committee, but this looks to be great, brainless fun. The world building for Atlantis looks outstanding, which is a nice trend following Themyscira in 'Wonder Woman' and an even better reprieve from that stupid fucking Russian village in 'Justice League'.
Besides Khal Drogo, it has a cast I love including Amber Heard (The Danish Girl), Nicole Kidman (Moulin Rouge!), Randall Park (The Interview), Patrick Wilson (Watchmen), Dolph Lundgren (Rocky IV), Willem Dafoe (Platoon), Yahya Abdul-Mateen II (The Greatest Showman) and last but certainly not least, Jango Fett himself, Temuera Morrison! Having Oscar winners/nominees in Kidman and Dafoe respectively helps the legitimacy of the movie tremendously, and I'm ecstatic to see Patrick Wilson getting a second chance at the DCU after people panned 'Watchmen' which wasn't really that bad at all. This comes out just in time for Christmas, scheduled for December 21st.
Don't forget to subscribe to Lights, Camera, Pod, follow us on Twitter, follow us on Instagram and join in on the conversation on our Reddit.