The Definitive List Of Blackhawks Who Could Get Traded This Week
Leading up to the draft is ALWAYS an active time for the Blackhawks. Usually it means trading away valuable players for 80 cents on the dollar in order to get under the Salary Cap. Last year Stan dropped a pair of nukes inside of an hour with trades of Hjalmarsson and Panarin that….have not panned out. This year, Stan Bowman has a chance to rebuild and remake his team with some cap space, some draft picks, and some NHL bodies to move.
Coming off the third straight year without a playoff series win and a truly disasterous season the heat is turned up to the point that Rocky Wirtz doesn't even mind talking about it publicly
"…if things are off at the beginning of the year, that's a different story. … Nothing lasts forever."

Asked if that means changes could occur right after the holiday season if the team is doing poorly, Wirtz had a short answer: "Yes"
That's the type of quote that can make you go from feeling like…
to feeling like
Now, I want to make it clear that these are not trade rumors in this blog. Much to my dismay, I have gotten less than zero information this year. The only things I've heard about the Hawks have actually come from other teams so there's no way to know how true it is. This is rather just a logical blog setting the stage for the week about what guys could get traded. I've ranked them in order of their likeliness.
1) The Piece Of Paper Formerly Known As Marian Hossa
Hossa is getting traded. His contract has value for the poor teams of the world. I am sure everyone knows by now that there is a salary floor which teams must get up to. Hossa carries a $5.275M cap hit, but because of the way his deal was structured, there's only $1m per year in actual dollars owed to him. If you're a cheap ass like Ottawa's owner Melnyk, or a team constantly on the verge of bankruptcy like the Coyotes, then this is an attractive thing to trade. Its probably worth a later round draft pick. Great career by Hossa, and now it's a wrap. He'll get a text to his lake side villa in Slovakia while wearing breathable natural fiber clothes.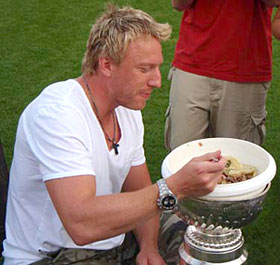 2) Either Jan Rutta or Connor Murphy
Seemingly EVERY rumor has the Blackhawks linked to a Right-shot defenseman. Whether it's going after Justin Faulk or Jake Trouba or John Carlson or Dougie Hamilton(please no) all of those guys are theoretically top 4 right-shot defense. Well Brent Seabrook takes one right-defense spot. You also have Jokiharju signed to his ELC meaning he could be in the mix as well. So if the Blackhawks add another right-shot dman via trade or free agency then that means someone has to go. Yes, I suppose that Murphy and Rutta could just play on their off-side, but the Blackhawks already have Keith, Forsling, Hillman, Oesterle, and Gustafsson under contract for next year. Ultimately, if the Blackhawks do make a trade to upgrade the defense, I believe one of these two guys will be heading the other way.
3) Artem Anisimov
I am starting to think that Anisimov might not go anywhere. The Blackhawks are looking like they are a LW on the Schmaltz-Kane line away from having their top 9 locked.
Saad-Toews-Hinostroza
LW TBD-Schmaltz-Kane
DeBrincat-Anisimov-Sikura
That's a pretty god damn good top 9 in my opinion. Everyone is clammoring for DeBrincat to play with Kane, but I really like the idea of having a LW with Schmaltz-Kane who can and will go to the net in order to create space and chaos for his linemates. That could be a guy like JVR or maybe just maybe, Brady Tkachuk. Then DeBrincat has Sikura as his setup man and they feast against favorable matchups. With Sikura and DeBrincat as the wings you really need a responsible center who will be good in front of the net…Anisimov kind of fits that description. I'm not a big fan of Anisimov's game overall at this point and I would love to get that cap hit off the books, but if Stan and company can't find a dance parter, Anisimov in this role wouldn't be the worst thing in the world.
If he does get traded, the two seemingly most likely destinations would be Montreal and Columbus. Send him back to his old pal
4) Brandon Saad
The only reason I'm including him here is because his name was mentioned in rumor which said Carolina asked for Saad in a package for Justin Faulk. My guess countered that offer by saying "fuck you" and hanging up. HOWEVAH, I don't think trading Saad is completely out of the question when in pursuit of a top 4 defenseman and maybe you make that move if you KNOW you're getting both JVR in free agency AND you're able to draft Brady Tkachuk. If you can't lock both of those guys down then trading Saad leaves with you a HUGE hole in your top six and your left side in general. I doubt Stan sells this low on Saad.
I think…that's the whole list. A grand total of 5 guys who could get moved. I suppose Anton Forsberg, Gustafsson, Oesterle, and guys like that could be thrown into larger deals, but the rest of the roster is made up of "core" players on N0-movement clauses or young promising players on their ELCs. There will be some fireworks this week, but I would be shocked if there were names moved not mentioned in this blog.
I will be bringing my computer to declans so we can live drunk blog from the watch party on friday night.