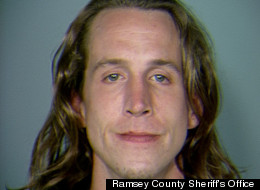 (Source) Christopher Meusburger allegedly threatened his 62-year-old neighbor with a sword after she criticized the way he treated a book she lent him.
Last time anyone ever lends this guy a book. Christopher Meusburger, 29, of St. Paul, Minnesota, allegedly threatened his 62-year-old neighbor with a sword on Monday night after she complained that he mistreated a book she lent him, the Pioneer Press reports.
The woman spotted a book that Meusburger had borrowed from her on the floor of the hallway, outside her door, according to the criminal complaint filed on July 31. She asked him why he didn't just throw the book away instead of leaving it on the floor, which apparently upset Meusburger."If you weren't so weak I would seriously hurt you," he said to the woman, after getting so close that their noses were touching, according to the blog City Pages.The complaint report says that Meusburger then pushed his neighbor "back a few steps with his chest puffed up like he was getting ready to fight her." The woman could tell Meusburger was intoxicated and said that if he continued to push her, she would call the police.That's when he ran into his apartment and grabbed a long sword."He was in a fighting stance like he was ready to sword-fight with somebody," the complaint said. "She said she has never been that scared for her life before."After he swung the weapon around, Meusburger went back inside his apartment. The woman contacted police, who arrested Meusburger. He told cops he drank at least a 12-pack of beer — his blood-alcohol level reading was 0.185. While in custody, an investigator asked Meusburger why he was in jail."Because I'm an idiot," he answered, according to the complaint. Meusburger told police that his neighbor was yelling at him and admitted that he unsheathed the sword, but claimed he never left his apartment with it.He did say, though, "But I unsheathed it. Hard to think of it as not a threat," according to the complaint. Police found several other weapons in Meusburger's apartment, including more swords, Ninja stars, daggers, knives, and nunchucks.Meusburger was charged with terroristic threats, according to the Pioneer Press.The complaint report did not include the title of the book Meusburger borrowed from the woman.
Annnnd this is why I don't read books. I don't care if at 27 my vocabulary has regressed to a 3rd grade level. I don't care if I consistently misspell words and stumble on my own sentences. I don't care that I am not up with current events and all that jazz. Why? Because people who read books are fucking snobs. Look at this lady, handing out loaners and then critiquing you when you leave it on the ground. What the fuck is that about? Newsflash lady, that book you lent me spent 99.9% of its life inside the bathroom 12 inches away from me taking a shit so don't be coming at me complaining when you see it collecting a little dust on the ground. That's a gigantic step up for that book. That has seen some serious shit, it just hit the book lottery, from the ghetto to Michigan ave.
So forgive me if I stick to reading twitter and the back of my cereal box. One second you're reading books and trying to "learn" and the next you're forced to unsheath swords in an old lady's apartment, take "reading" out of the equation and all of this is avoided.
PS
"If you weren't so weak I would seriously hurt you,"
That may be the hardo line of the year right there.
Double PS
Wonder if it was a Hanwei Practical XL Katana. Bet it was.