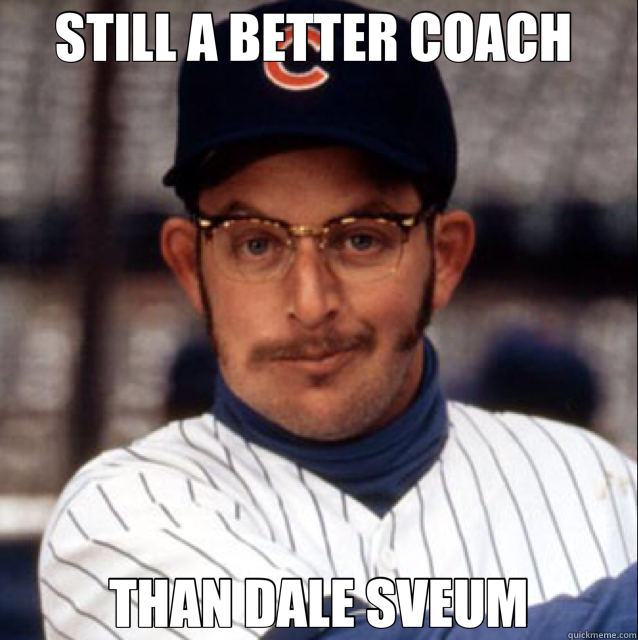 ESPN – One of the things Chicago Cubs president Theo Epstein likes about his manager, Dale Sveum, is his laid-back demeanor. It was on display Wednesday afternoon as Sveum discussed his job status heading into next season — one day after his boss did the same. Sveum was asked if he's hopeful a vote of confidence was coming. "Hopefully that comes 12 days from now," he said before his team played the Milwaukee Brewers. "They have to evaluate. The same way we evaluate the players. It's the same thing."
Sveum is signed through next season and has a team option for 2015. On Tuesday, Epstein indicated the manager wouldn't be judged on wins and losses as much as player development, in-game strategy and the tone he sets in the clubhouse.  "Some things haven't gone too well and some things have gone really well," Sveum said.  Since he is under contract for next season, the bigger question might be about 2015. Will the Cubs exercise the option before the 2014 season begins so that Sveum wouldn't be a lame-duck manager and players would know whether he would still be their boss the following year?
..
…
If Sveum gets fired after this year, it will go down as one of the greatest hose jobs in the history of professional baseball. Hey Dale, come manage a group a fringe AAA players, a handful of pitchers with absolutely no concept for the strike zone, and a host of aging, salty, overlooked veterans for two years and maybe we'll honor the duration of your contract. FUCK. THAT. From a personal, moral compass guided standpoint, you have to think there's no way Theo lets him go. Bottom line is you can't make delicious buffalo chicken sandwiches (can I get a side of ranch?) out of chicken shit. Outside of Lou Brown, there isn't one motherfucker on this planet that could get any sort of value out of this roster.
On the other hand, baseball is a business. Plain and simple. The second guys like Theo start to feel that things aren't moving the way he'd imagine, heads are going to roll. At the end of the year, Theo will have 324 games worth of Dale Sveum managerial tactics to make a decision if he's the right guy or not. Unfortunately for Sveum, he's got the blood of his two stars' shitty seasons on his hands, as well as a slew of defensive and bullpen issues. Personally, I think he gets another year. Just no way you shit can a guy when your opening day rosters has guys like Dave Sappelt, Brent Lillibridge, Carlos Marmol, and Alberto Gonzalez on it. Practically begging to lose 90+ games with a 25-man like that.
…
PS
Ummmmm Dale? What the FUCK has gone really well this year?