Alfonzo Dennard Convicted of A&B on a Cop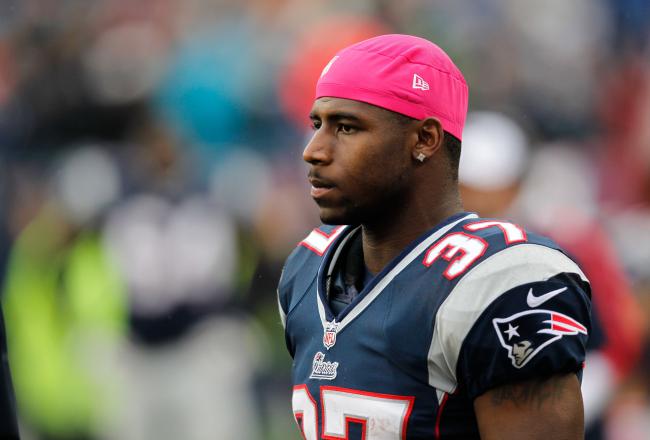 NFL.com – New England Patriots cornerback Alfonzo Dennard is facing up to six years in prison after being found guilty of assaulting a police officer, a felony, and resisting arrest, according to the Lincoln Journal Star. A former Nebraska star, Dennard had been charged with third-degree assault of an officer, resisting arrest, and third-degree assault of a 22-year-old man following an incident on April 21. He was found not guilty on the charges involving the 22-year-old man. Dennard will be sentenced on April 11. The week-long trial ended Wednesday, a day after a jury of four men and eight women failed to reach a verdict after six hours of deliberation. The jury sided with prosecution, which contended that Dennard punched a police officer outside a Lincoln bar…Dennard had been in line to start for the Patriots at right cornerback in 2013, though Wednesday's guilty verdict could force a change in plans. With Dennard facing prison time, the Patriots might be more inclined to bring back Aqib Talib, a pending free agent.

As anyone who knows me will tell you, I'm very much a Law and Order guy.  There's a reason I'm one of the few guys I know who managed to never see the inside of the Weymouth PD lockup or who never felt the cold kiss of the business end of a police-issue 8 "D" battery flashlight on the back of my squash.  Because I learned at an early age the value of a few well-placed "Yes sir"s.  And of course as a general rule, I'd prefer my Patriots players NOT smacking cops in the jaw.  I'd much rather see Dennard hitting the Gillette weight room or doing film study with Devin McCourty than sitting in a courtroom facing a year's bid at a Nebraska Pound Me in the Ass prison.  On the other hand, I was complaining after the season ended that maybe the Patriots in general are a little too well behaved.  That maybe they've over drafted high character guys and team leader types.  Too many choirboys who eat all their vegetables then say "May I be excused?" and put their plates in the dishwasher.  And after watching them get beat every year by teams with feral maniacs like Ray Lewis and Bart Scott and I'm starting to wonder it's possible they could use a little dose of badassery.
Again, I'm all about supporting our law enforcement and respecting the Thin Blue Line and all.  But I have to admit I like the sound of our starting cornerback who's a convicted felon.  If you followed trial at all, you know that Dennard was decribed as "angry, aggressive and confrontational,"  something I like to see on a scouting report.  And the cop said that on a scale of 1-10, his punch felt like an 8 and it took 4 officers to subdue him.  This from a cop who's 6-0, 195lbs.  You know who else is 6-0, 195?  Torrey Smith.   Let's see him try to go upfield against Dennard knowing he's got an 8 on the Punch Scale and he ain't afraid to use it.  Again, this doesn't excuse anything.  And it obviously doesn't do the Pats any good if he winds up in the Stoney Lonesome.  But say he gets probation and doesn't miss any time?  Having a guy in the lineup with a violent criminal history might be exactly what we need around here.  Free Alfonzo Dennard!  Free Aflonzo Dennard!  @JerryThornton1